Media Matchmaker & Janey Lee Grace Presents
Get On Air Ready And Secure Your In-Depth Radio Interview With Janey Lee Grace

1

In-depth radio interview with Janey Lee Grace

Your interview time and date will be agreed in advance and this will include up to 40 minutes on a one 2 one with Janey over Zoom (this will be a quick chat and then diving into your radio interview). This will be recorded as if it was a live radio interview and Janey will make sure she asks the questions to highlight your story and business.

2

Radio Media Training

Before you have your radio interview you will have access to your full radio media training (see below). This will make sure you are 100% confident and ready for your radio interview.

3

Bonus: Media list of up to 200 journalists across Radio, TV, print and online

We will create a bespoke media list perfect for you. You will have chance to tell us where you would like to be featured and what sectors you are targeting along with if you are looking for local, regional or national coverage across radio, TV, print or online.
Why You Should Secure Your Radio Interview With Janey Lee Grace:
1

You're positioned as an industry expert

2

You will have chance to share your story in your in-depth interview

3

You can leverge your radio interview and send the recording out to your customers and prospects

4

You can add your radio interview to your press page to encourage future media interviews
What you will learn with your radio media training

Introduction, Media Training & Top Tips
How to get prepared ahead of any interviews

Different styles of radio interviews

How to do your research so you know the angle of the interview and what's expected of you

How to find out how long the interview is

How the journalist will credit you and how you tell them how you want to be credited

What the rules of getting promoted on radio are


What annoys presenters and producers and what not to do

How to sound in your radio interview, what voice techniques to remember

How to prepare your content and presentation

How to rehearse ahead of your radio interview

Pitch, Pace, Pause and Power

Considering sound quality if being interviewed remotely

What equipment to consider for your radio interview

How the audience can pick up on background noise and how you help make your interview flow

How to answer questions with purpose

How your radio interview is like a tennis match

What to do if the presenter has not done their research

How to keep the interview focused to your agenda

How to acknowledge and cover off your own key messages

How to prepare your key messages and supporting points

When you can mention your key messages

What's your action point and how to make sure you use it

What to do if the interview goes off onto a tangent

How to keep your radio interview positive to your brand and story

How to prepare for negative questions

Why your radio interview is not an exam and how to make sure you can answer tricky questions in advance.

How to acknowledge and move on

How to approach radio producers

How newsrooms find and search for commentators

How to make it super clear what you do so you can be found for radio interviews

How to help yourself get found for radio interviews

How to radio producers them to save your press releases and introductory email

How often to approach radio producers

When it's a good time to be proactive with radio producers and pitch your expertise

What not to do when working with journalists

How to get the right type of photo for journalists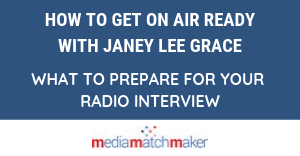 What to prepare for your interview with Janey
How Janey will promote your work and your message during your interview


Why your interview will be recorded 'as live' with Janey

How we will edit the interview for you and how the audio will be sent to you

How you will chat to Janey for a short while ahead of your interview

How long to expect to be interviewed for

How you will have the opportunity to get your key messages across

Why your interview will be fun so enjoy it

You could have the opportunity for Janey to share your interview on her radio show.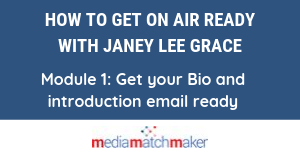 Module 1: Get your Bio and introduction email ready
Keep your introduction simple and clear

What we need as journalists to introduce you

Keep it relevant to the interview

How to keep your intro focused to your USP

How to position yourself as the expert

How to stop the presenter making mistakes

What do you want to be known for

Write your name phonetically if you need to

Back announced, how do you want to be back credited at the end

Take you time to get this right and test your intro and back credit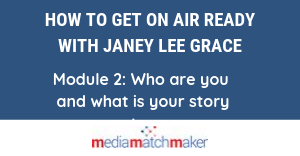 Module 2: Who are you and what is your story
Why are you being interviewed and what's your USP

Sharing your personal story if you have one

What are relevant personal stories and it's OK if you do not have a personal story

How to give a story colour or an angle

Who are you, what's the bit that only YOU can offer

How to make the emotional connection

How to use customer stories or testimonials

What's your why?

Keep your story short, more than two short paragraphs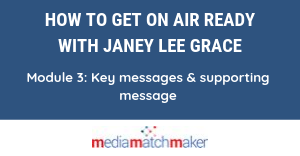 Module 3: Key messages and supporting message
How to get what you need out of this interview

How to make the interview as a conversation with a purpose

What's the key message/angle you want to talk about

Think about your one key message

Your key message is your responsibility so write it down

Prepare up to 3-4 supporting messages

Make them really clear, write them down in the form of a question

How BBC interviews could work and how to provide your key messages to the producer in advance

If you have a unknown topic or business make sure you can describe it in a main stream way

Enjoy your interview

Submitting your interview details and fixing your time and once its confirmed

Structure of the interview

Closing message from Janey
Once you secure your radio interview by adding your payment details you will receive your confirmation email with full details on how to get prepared for your interview and when your interview will take place. Once an interview time and date is agreed this will be fixed in the diary so you can add this to your diary as outlined within our Terms and Conditions *