Media Matchmaker brings journalists, organisations and industry experts together to create a media match. Whether you are a journalist looking to speak to an industry expert, or you're an organisation who wants to share timely information with the media, Media Matchmaker will help you achieve your goal. Our clever solution allows journalists and organisations to reach out to one another in order to make sure the right information is being shared. With three different media pass options to choose from, Media Matchmaker puts YOU in control. You define who you want to be contacted by, receive and sign up to media alerts, get unlimited media requests and be proactive with your information by sending unlimited news stories to targeted journalists. Media Matchmaker really is a media match made in heaven.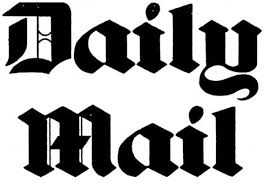 What is Media Matchmaker?
Media Matchmaker is disrupting the publicity & media market, connecting the UK media & journalists to businesses & entrepreneurs, like never before.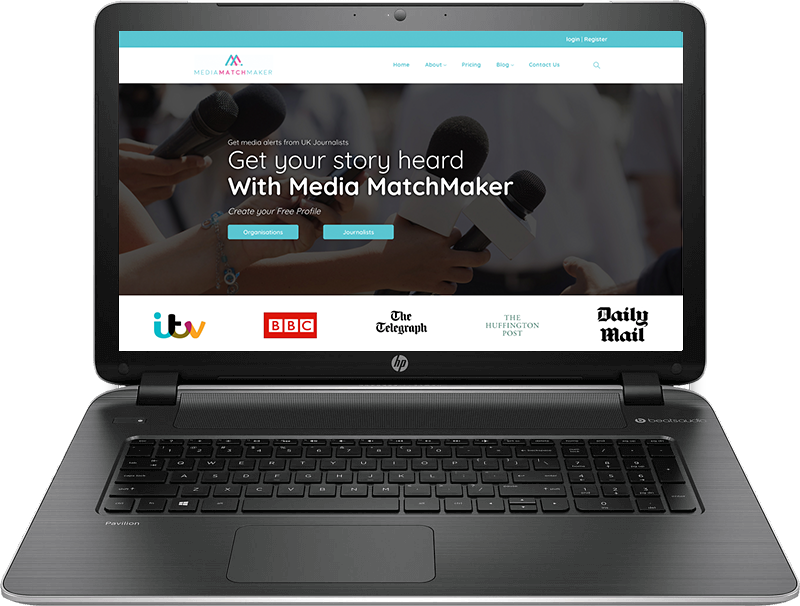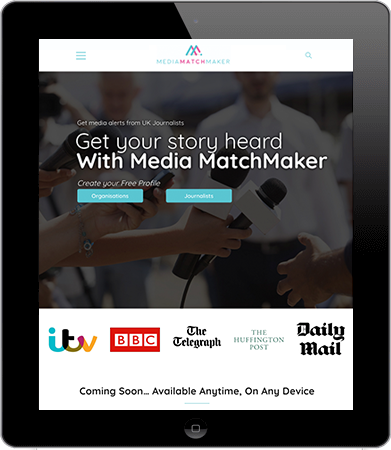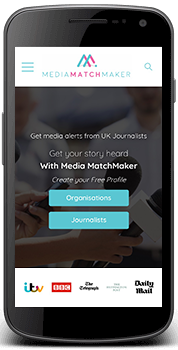 Find an Expert
Our community connects news sources and industry experts with the press, who post daily requests for interviews, expert quotes and media appearances to our platform.
Target an Area
Everyone has their own field of expertise. With Media Matchmaker, we make it easier to target specific areas and speak to the people who are most relevant to your story.
Journalist Resource
Media Matchmaker puts you in control. It's designed to simplify the time-consuming task of news gathering, to benefit journalists and organisations so we create you a media match.
Take Advantage Of Your Free Profile!
(Free basic media pass available. Advanced media passes available at an additional cost.)
What People Say About Us
Janey Lee Grace
BBC Radio 2 Presenter & Journalist
I'm just thrilled that Media Matchmaker has come about. For so long there have been organisations and experts with an amazing story to share who need to get their message out to a wider audience. At the same time I see journalists and editors who want good stories. This really is an amazing opportunity for journalists to connect with the stories they want, and for businesses to be able to share their expertise. It's an incredible way to source the fantastic content that you're looking for.
Sarah Flynn
Founder and Managing Director at KAF Properties
I am incredibly excited about this new platform - I'm a property investor and one of the ways we look for investment is by raising our profile through the media. I'm now in a position on this new platform where those experts and journalists are going to be at my fingertips and I'm going to be able to connect with them really easily. I'm going to be able to approach them, and they're in turn going to be able to approach me... they'll be able to see exactly who I am and all the knowledge I am able to share.
Jacqui Baker
Founder of Select Connections
Within 5 minutes of sending an email to targeted journalists, I secured a meeting with BBC Radio Solent. Then, within a few hours, The Echo asked if I would be interested in being a weekly columnist; James Preece asked me to sit on a podcast with him; Global Love Reports asked for an article, and BBC Yorkshire is currently lining up an interview. The best response I had was from The Sun Newspaper Fab Supplement as they want to do an exclusive interview. I had all these responses within 24 hours - It's already paid for itself I don't know how many times over!
Rupert Upshon
Assistant Editor BBC WM
If there's a resource which brings relevant stories and case studies together in one easy to use place, that can only be a good thing for journalists and producers right across the industry.
Catherine Sutton
Founder of Airborne Allergy Action
I'm very excited about the opportunity to be part of the Media Matchmaker programme and to have the opportunity to provide my expertise on indoor air quality so effectively, through this platform direct to journalists.
Kevin Pashby
Former BBC Journalist
Media Matchmaker a win-win for both sides, as journalists we need stories, we need talking heads and we need people that can do interviews quickly, we have hourly half hourly deadlines. To have this resource I think it's essential to put us in touch with people that we can rely on to give us credible interviews and soundbites.
Lee Callender
Entrepreneur
I can massively see the value of using Media Matchmaker; the ability to connect with journalists and get my stories out there. The way my business is expanding, it's really difficult to get that message across sometimes. Media Matchmaker just gives me the perfect platform to be able to do that.
Marc Reeves
Editor in Chief - Trinity Mirror
Media Matchmaker platform looks good- simple and intuitive. If a journo gets a relevant response quickly, it'll be a winner.
Sarah Ryan
Dating Coach and MatchMaker, Ongoing National Publicity Secured
Within a week of signing up I sent out a press release suggesting a story idea to targeted journalists. I had a good response, first was from the editor and chief from a luxury men's magazine who is our absolute target market, we scheduled in an hour's telephone interview, it was that simple. I also had a response from a lady who is the editor for a Bridal Magazine, I answered her questions for an article and she has also asked to be a regular contributor for her national magazine. Great investment.
GK Kingsley
Poet, Ongoing BBC Radio Success
Following the How to do your own PR advice, it empowered me to start myself forward for things you empowered me to stop putting myself to the media. I approached BBC Radio Northampton about my writing and Radio Presenter John Griff asked me to go in to the studio, I had over five minutes of on air time plus they mentioned my website twice and now I regularly get asked to go back for radio interviews. Thank you.
Nicci Fletcher
Fertility Expert, Ongoing Media Coverage
Working with you has secured print coverage a few times. These including a series of monthly articles in mainstream UK magazines with 60,000 meant to print run. Highly recommend.
Will Haseldine
Managing Director Rug Buddy, Success on Radio 2
I followed 'How to do your own PR' advice and sent an email to the targeted contact at BBC radio two, after following it up a few times I was asked to be featured on BBC Radio 2 afternoon Innovation Show hours. By the time I got home from the studio I'd already been inundated with sales and went on to have a really frantic weekend making sure without all the orders as they came in. As a result of the radio interview I sold out of two months stock within 48 hours. I can now see the power of PR and using this platform.
Lucy Gilchrest
Creative Agency, Creative Marketing Agency
I love the tight targeting of the platform, you can specify the journalist and media outlets you want to work with in a certain sector. When you can be so specific on who you are targeting the ease of securing publicity is mind blowing.
Rosemary Cunningham
Holistic Therapist, Media Success Within Twenty Minutes
Within 20 minutes of joining, I saw a journalist tweet asking for women to help with the national article that absolutely fit it for me. I contacted her and she is proposing to write an article about me in the Daily Mail, thank you for delivering within 24 hours of joining.
Paul Wilson
Personal Trainer & Bootcamps, TV Features & National Glossy Magazined Secured
Within 24 hours of joining I secured a radio interview which then lead on to a TV opportunity.
Chloe Richards
Coach, Secure Her Own Column Within Three Days
I secured my own column within three days of signing up. I saw two media requests I liked the look off, both for online media asking for ideas, I emailed them both and suggested ideas then I had the idea of writing a comment and pitched that, they both agreed and offered me a regular column which is been great to promote my book and website. To be honest when I joined on Monday I thought I would give it a go for a month and probably not going to get anything and then three days later I have two magazines that want me to provide them with regular articles. Thank you, love the PR Leads.
Jo Simpson
Values Coach, Author & International Speaker, Fabulous Fun Article Secured
Massive thank you to you for the PR Leads, there was one on there that just sounded fun and I match the criteria, so I contacted the Journalist by Twitter and after two tweets and an email I've secured a fabulous fun article. Truly grateful for your gift and support, the journalist was really grateful that I contacted her so gratitude all round and it only took me about 15 minutes in total, will share the peace when it's published.
Jules Mitchell
The Happiness Coach, Asked To Be A Regular Contributor For Her Regional Paper
If you are thinking of working with Rachael and her team, absolutely go for it! It is so so worth while, and the fact you inspire us and show us 'How to do your own PR', is so helpful and the advice and knowledge you give is brilliant. I have secured a double page spread and also now been asked to be a regular contributor.
Emily Thorpe
Happy Working Mums, Radio Interview Within Minutes
Within hours of being inspired by Media Matchmaker and following their advice, I sent out a press release, I had a phone call asking me to be on BBC Radio, I can't believe how fast it happened actually. I joined the Media Database only a couple of weeks ago, sent out a press release and within a few hours had a phone call from Sussex radio asking me if I can be interviewed in the afternoon, it was just unbelievably fast. I've also got another request in my email box as well so it's just incredible results in an incredibly fast time.
We Listen To Your Needs
Choose your perfect UK media pass! Get connected to up to

Register Your Free Media Profile