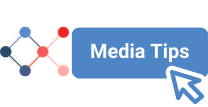 From Rainbows to Radio – a PR success story
We've got something slightly different for you on our blog today. We were so excited to have the opportunity to interview Amber Reeson, owner and founder of Neon Marl, on our channel to inspire us all with some PR magic. If you haven't already heard her on the Chris Evans Virgin Radio show, Amber owns a hand-printed clothing company called Neon Marl, whose success sky-rocketed in a matter of 3 minutes in just one morning.
Amber's business 'Neon Marl' started out as a small, independent company with just 2 employees and 8,000 followers on Instagram. After Virgin Radio got talking about one of her famous rainbow hoodies, her Instagram account soared from 8,000 to 10,000 followers in just three minutes. She received 340 orders in 1 hour (which was her usual yearly order), and she now has a whopping 34.5k followers. Now that's a PR success story if I've ever heard one.
This interview is truly inspirational, and shows just how powerful radio publicity can be for your business – transforming businesses in the space of one morning. We wanted to show you how you can use our media training and PR tips and tricks to produce a success story of your own.
In this interview, Amber tells all on her radio success story and how PR quite literally landed in her lap. We get chatting about how this 'accidental PR' became the making of her business, and how anyone can utilise media platforms to gain PR coverage.
If you're in need of some PR inspiration, or just want something to smile at, then watch our interview with Amber down below, or head to our YouTube channel for this interview and many more.
For anyone wanting to see what all this fuss is about, here is the link to Amber's business 'Neon Marl' where you can get your very own rainbow hoodie: https://neonmarl.co.uk
To get full access to all of our interviews, templates and guidelines you can:

Register your media profile as a Backstage member

OR if you are already a member, login to your account