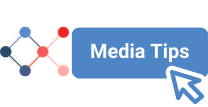 Getting your story on TV
Wondering how to get your story on TV? Make sure you watch this interview below with Founder of Media Matchmaker, Rachael Taplin, and Marcus Bennett, ITV Reporter.
This interview will cover:
Reporters ARE interested in your local stories, every story matters and as long as it is interesting, it has the chance to appear on TV.
Always think of what your first picture could be and how your story can visually attract an audience.
Majority of story ideas is from people phoning up and pitching an idea – if the phone lines are busy, make sure to send a quick email outlining the story, what you do and your contact details.
A story with product placement more often than not WON'T make it to air.
Get your story out AS EARLY AS POSSIBLE. Reporters plan months in advance, so make sure you pitch your story at least a month ahead of it breaking.
Make sure to give this interview a listen, it's full to the brim with unique tips and information on how to pitch your story exclusively to TV reporters. Listen while you're working, cleaning the house or cooking food – there are no visuals so only audio is necessary.
We hope you enjoy!
To get full access to all of our interviews, templates and guidelines you can:

Register your media profile as a Backstage member

OR if you are already a member, login to your account