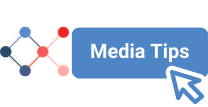 Is there a National Day for your business?
Journalists are always looking for ideas for stories and often cover a national or celebration day.
Did you know…
There are literally hundreds of celebration days that you could ride off the back of.
I have recorded a short video for you to show you how you can secure easy PR for your business by helping Journalists with national and celebration days and how you can find a list of these.
To get full access to all of our interviews, templates and guidelines you can:

Register your media profile as a Backstage member

OR if you are already a member, login to your account