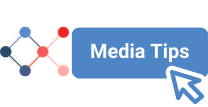 Amanda secures success for clients
Amanda Denells-Bewley is a Digital Comms Specialist specialising in PR for the charitable sector.
Amanda has had a great year for her clients' PR, and access to our database has helped her to get her clients stories in to their desired publications.
The ability to search through our database for specific publications has meant that Amanda's clients are now receiving coverage in magazines that reach their desired audiences. Just last week, Amanda sent out a pitch for a client and received a fantastic response; she now has secured her client coverage in three different magazines in their niche category.
Although Amanda received further responses from journalists in different publications declining the story, this is still a positive outcome as it shows journalists do take the time to read your emails, even when they're busy!
This is a great way to end the year, and a great way to secure publicity for your business!
Visit our Facebook media page to find out more top PR and media tips and find out how you can access your free 14 day VIP media pass. Or if you're itching to get started you can get started here.
To get full access to all of our interviews, templates and guidelines you can:

Register your media profile as a Backstage member

OR if you are already a member, login to your account