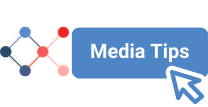 Behind the scenes
As a way of us saying thank you to you for supporting us on our Media Matchmaker journey, we thought we would deliver some PR tips and tricks straight to you from our blog page.
These tips will help you to secure maximum coverage, attract publicity and create an attention-grabbing story that your audience simply won't be able to resist!
It isn't necessary to use every single PR tip in your marketing strategy, however they are here to give you some inspiration and help you to modify and amp up your current PR campaigns.
So here goes…
PR TIP #1:
GET A BEHIND-THE-SCENES
Whatever industry you're in, you possess the key to all the industry knowledge and news that other people don't know about, or simply don't have access to. When trying to think of a story to base your press release on, give the journalist access to an industry secret that they simply can't say no to!
Why not try this out when preparing your next press release and see if it secures you some coverage!
To get full access to all of our interviews, templates and guidelines you can:

Register your media profile as a Backstage member

OR if you are already a member, login to your account