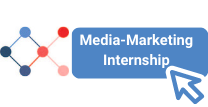 Media/Marketing Internship 6 months
Opportunity for an intern to join our Media Matchmaker team, part time hours for up to 6 months.
This would be ideal for anyone interested in working with the media with marketing skills. Ideally you will have a high level of understanding of social media, able to use a computer and must have a trustworthy ability to motivate themselves to take action and achieve each day. The ability to write copy for newsletters, emails, marketing material will be required. Quick to learn and not frightened to take on challenges.
You will be working remotely with regular support and training to encourage and develop your skills and ability. You will be working on relevant projects, learning about the field, making industry connections, and developing both hard and soft skills
You will be connecting with UK journalists across TV, radio, print and online, also with organisations from all sectors.
The role will be minimum 3-4 hours each day during office hours, can discuss flexible working. Great opportunity for the right person with opportunity of paid position at the end. Profit share scheme will also be offered.
Please submit your interest and credentials to rachael@mediamatchmaker.co.uk