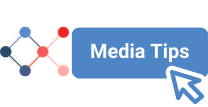 Media Matchmaker Going LIVE soon!
Great to see you on Thursday and hope you found the PR hour LIVE useful.
As promised here's an overview of the platform, you are the first group I have shown this to, other than a few journalists! eeek!
I would really love your feedback, I promise it won't take long.
Step 1 Watch the short promo and overview videos, the website is in beta test mode before we go live.
Promo video
Organisation overview 
Journalist overview 
Step 2 Feedback to me in any format that works for you either by email or whatsapp a voice note or video message, which ever is easiest and quickest for you, Mobile is 07968036465
I would love to know
what you think of it overall,
how you think it can be improved,
what you like or don't like
and finally just a few positive words to be able to use for when we go live
such as:
name, title and company
what you think of Media Matchmaker new platform,
how you can see how it will help journalists and organisations
and anything else you would like to say.
Here's the feedback we have had from Janey to give you an idea 
I totally appreciate how busy you are and please if you can spare 10 mins that would be SO appreciated, as you know I have been working on this so hard in the last few years and finally have got it to a place where I am proud to go live,
You will be able to have full access to the platform new features as part of your current package and will send details as soon as it's live.
Thank you x