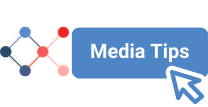 PR Hour Live – Is your story newsworthy?
On this weeks PR Hour Live, we discuss with our members how they can find the best angle for their story.
Finding a new, fresh angle to send off to a journalist every month can become difficult, a lack of inspiration paired with a busy schedule results in those emails being left unsent.
However, this PR Hour Live discussed how we can easily produce an interesting story from our members businesses. We discuss brainstorming ideas, what kind of stories are currently trending, and how to understand the landscape of the media you want to place yourself in.
Some key tips we took away from this session from our PR Expert, Amanda Danells-Bewley, were:
Journalists are currently interested in human interest story. If you can come up with a story that has major significance to the current climate, or has impacted a customer directly, then use this to shape your story.
Understand the landscape and get to know the kind of media outlets you want your story to be published in – you need to see what they're currently covering and see if and how your story fits in with that to make sure what you're sending them is relevant.
Be aware of timing – certain events in the year get a lot of press e.g. Valentines Day. At those times, journalists will be mainly looking for stories centred around this theme. If you story has no relevance to them, then wait until they report something more relatable for you.
Have a listen to our PR Hour Live above to see how we work with our members to find an angle, shape their story and work towards a goal.
To get full access to all of our interviews, templates and guidelines you can:
Register your media profile as a Backstage member
OR if you are already a member, login to your account