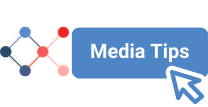 How are you targeting national newspapers?
By now I'm sure you're all familiar with our monthly PR Hour Live Training that we hold with all of our fabulous members. Each month we invite a guest speaker on to our lives to talk about their area of expertise, and help our members to utilise their PR to secure maximum coverage and publicity. In this PR Hour Live, we invited Stuart Hayes, one of our PR partners, who will discuss how we should target the 'dreaded' national newspapers.
We seem to have built up a sense of communal fear from national papers, and more often that not tend to target the smaller, local papers over the much larger national ones. However, this needn't be the case, and you'll find out how national newspapers are just as easy to approach as the local ones.
Stuart has worked for some well-known household names previous to his freelance journey. His past experience has involved work with National Rail and Greene King Pubs, both with a national focus. He now works as a self-employed PR consultant working with SME's, entrepreneurs and business owners who are looking to raise their profile in the press.
Stuart will help us to work out whether we NEED to target national press, or whether we can get more valuable coverage elsewhere.
In this interview you will learn:
Why you may want to connect to national journalists
What makes a good national story
Are you relevant for national exposure
How to approach national journalists and how to find the right contacts!
How to secure nationwide coverage in addition to national coverage
If you would like to arrange a demo of the media database, email: support@mediamatchmaker.co.uk
To get full access to all of our interviews, templates and guidelines you can:

Register your media profile as a Backstage member

OR if you are already a member, login to your account