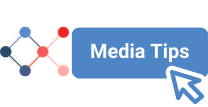 The return of Janey Lee Grace
If you've already read our blog post on our previous interview with Janey Lee Grace, you'll know she is a web of information for all things radio and media. As a radio presenter AND radio producer, there is no one quite like Janey to give the best kind of advice for businesses' looking to get on the radio.
This interview was all about sharing top tips for business owners who are searching for their radio breakthrough, and to open up opportunities either to get talking about a topical story, or to be positioned as the expert. Radio is fair game, and we want to prove to you why. It's not just a platform for the big corporate companies. As long as you have an angle that people will be interested in, radio is for everyone.
At the beginning of the pandemic, Janey admits there was a mutual feeling across the media that anything non-covid related shouldn't be shared. However, now more than ever people are searching for a distraction, and as more and more people have time on their hands, the media needs to produce more and more solutions. This is a major opportunity for those in the lifestyle industry, whether that be food, hobbies, gardening, skincare. Offering a solution to the problem that everyone is experiencing (thanks covid) is a great way to get your story on the radio.
So, time to get down to the nitty gritty. Janey exclusively shared with us her general rule of thumb when trying to get some airtime in the media.
Make sure you've had a listen to the kind of things each station covers. It's essential to do the research to ensure your story will fit in, and it will also save you wasting your time.
You don't necessarily need to send a press release, even just introducing yourself and what topics you specialise in can secure you a future opportunity. Having your details on file will be extremely beneficial for everyone.
A mistake most people make is that they see an interview on the radio as a selling opportunity. Selling your business is off-putting and unnecessary. If your content is interesting enough, people will go on to search you and find your business themselves. Answer the questions and be yourself.
And although it is important to be yourself, don't forget you're still meant to be showcasing yourself. You want people to like, know and trust you. So be sure to make a good impression.
It isn't just national stations that can make a difference to your business. Local stations, community stations and even podcasts are now acting as a doorway to success for small businesses. Catching the attention of a community is better than no one at all.
And the final piece of advice (perhaps the most important), you must be media ready. We know that not everyone has had an opportunity to be on the radio before, so this might sound difficult. But make sure you can communicate effectively, have clarity around your angle and are confident when liaising with radio producers. Unfortunately, if you don't come across as a natural communicator, then it is unlikely you will be asked back for a second interview.
Don't worry, we don't want you to panic. Janey has in fact provided the solution to this problem already. If you think you need a bit more practice before approaching your desired radio station, then Janey has set up a training program called 'How to get on-air ready'. You will be trained up by the very best (Janey herself) so that you are media ready, and you will even have a series of practice interviews so you can perfect your media voice.
Take a look at the full interview below, you might be able to pick up some great advice.
To get full access to all of our interviews, templates and guidelines you can:

Register your media profile as a Backstage member

OR if you are already a member, login to your account